NON-METAL SLUDGE COLLECTOR CONFIGURATION(download full description)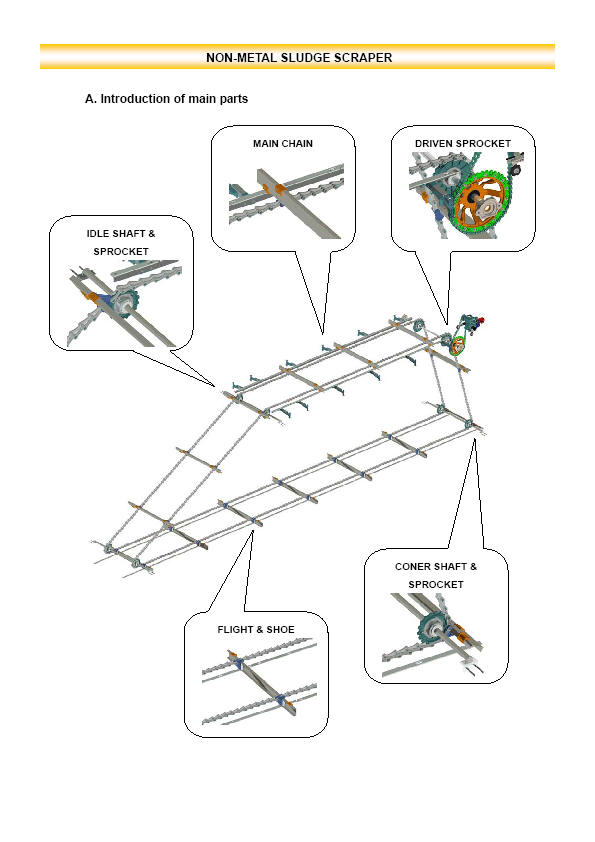 KEY FEATURES FOR ENVIRONMENT
- Designed and fabricated according to ANSI standard.
All non metal sludge scrapers are designed and fabricated according to ANSI, American
National Standards Institute, standard, and are compatible to existed sludge scrapers
Installed.
- Green materials are selected.
100% recyclable materials are applied. The products completed their duration are not
classified as industrial biomass. Our material is a 100% recyclable.
- No so many spare parts stocked required.
The sprockets which request to purchase so many spare parts in case the axis diameter
of initial and secondary settling tank is differ from each other do not request purchase
so many spare parts in our system, because the diameter of our sprocket is changed
by inserting of a simple adapter. This means that a separate stock of spare parts is not
required.
- No effected by each chain type(for Complete Compatibility)
Each part of this sludge scraper will be easily compatible to each axis diameter and chain type such "pintle" and loop " chain. The important parts of product are designed to be replaceable and compatible to different products.